E. Fibers
1. Chilcat blankets.

a. Mountain goat wool, dog hair, shredded Cedar bark with duck down and cotton from Fireweed.

i. Mountain Goat hair traded in from Plateau peoples.

b. Originally Tsimshin ("Dancing blanket") given to Tlingit.

c. Haida ( "Fringe around the Body"), preferred Yakutat Bay to Nootka.

2. Applique blankets and shirts with shells, buttons, Chinese coins, red and blue fabric on blanket base.

3. Baskets

a. Made of cedar bark, cherry bark, bear grass

c. Designs applied by paint or imbrication.
F. Shamans' paraphernalia.
1. Charms and amulets.
2. Sewn to dance apron.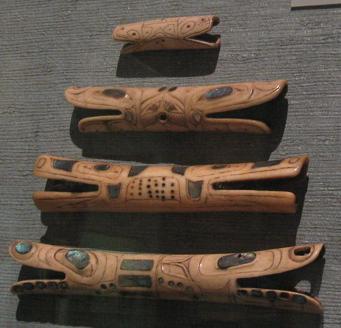 Soul catchers of bear bone and abalone
3. Ivory, bone, bear teeth, sperm whale teeth, abalone (nacre) from Monterey.
4. Soul catchers made from tubes of bear bone.
a. 5"-7" tall.
b. Curing ceremony (soul on the loose).
c. Maskettes, held in hand not worn.
5. Shirts with copious fringe and noisemakers (Puffin beaks), some quill work, some dentalia.
VI. Social Order consisted of ranked classes of individuals established at the level of the tribe, the numina, the personal name.
A. Types of traditional rank. In modern times rank is no longer as important.
1. Slaves could obtain no rank traditionally.
2. Commoners had only one rank. No commoner, however high their rank, had the right to participate in the winter ceremonial dances.
3. Nobility possessed sufficient rank to acquire the rights to songs, symbols, dances, names.
B. How rank is acquired or lost.
1. The highest ranking nobility were the oldest sons of lines of oldest sons who are traced to a real or mythical ancestors.
2. Commoner women who married nobles were accorded noble status out of respect to noble husbands.
3. In historic times there is evidence of murder and raiding to obtain rank and rights.
4. Adoption of commoner men into noble families in later times as population declined.
a. Not enough tribal members to fill all of the hereditary positions.
5. Men vied for position with each other through insults and recitations of lineage.
C. Privileges of rank.
1. Related to potlatch (1849 - 1933)
a. The right to sit in a specific seat at potlatch.
b. The right to receive gifts of ranked value presented in their name in a specific rank related order.
c. The right to occupy hereditary positions as indicated by a personal name.
d. The right to sing particular songs.
e. The right to use certain carvings and designs.
f. The right to wear certain ceremonial masks and to perform certain dances.
g. The right to participate at various levels in the winter ceremonial dances.
h. The right to initiation.
D. Social restrictions of rank.
1. Little socialization between commoners and nobility.
a. Children segregated in play.
b. Noble families intermarry to perpetuate wealth.
VII. Potlatch (Chinook for "give away") was a give away ceremony in which the givers vied to be the most generous, thus assuring the greatest return on their investment.
A. Associated with every major change in social life,
1. Birth, naming, first tooth, ten-month name, first contribution to family wealth, 15 - 16 year name, adult status, advancement in rank, marriage, death, ongoing commemoration.
B. Sequence of events which follows the establishment of event for potlatch.
1. Arrival of guests, feeding of lunch, performances, speeches, prestation, eating dinner, recess, recongregation, roll call and prestation, dances, fruit snack, dancing resumes, midnight snack, prestation.
2. Gifts in 1921 include coppers (valued between 5,000 & 7,000 blankets), blankets, canoes, sewing machines, food, dishes, textiles, money, pool tables, motor boats, oak trunks, clothing, furniture, gramophones.
1. Slaves (traditional times).
2. In death and commemoration the gifts wipe away tears
VIII. Tsetseka or ceremonial season, November - March.
A. Four day period marked the change from Bakoos to Tsetseka.
1. Memorial services held during this period for the year's dead.
2. A time of pleasure and relaxation.
3. Individual identity was changed, new names and new songs.
a. Stiff penalties for violation of new names.
4. Supernaturals came to initiate the young into different grades of dance societies.
a. initiates divided from non initiates.
i. Initiates divided between Sparrows (mockers and cajolers of Seals) and Seals (under the influence of spirits).
B. Initiates were to convince non initiates that spirits were in the village and that the drama unfolding was real.
C. Impersonators wore appropriate masks.
1. They emphasize the painted surface.
2. Masks have interchangeable anatomical parts.
3. Articulated to aide transformation (wolf>eagle>human).
4. There are a few nested stone masks.
5. Thunderbird has eagle attributes with horns.
a. Can lift a killer whale.
D. Hamatsa Society (cannibal society - "cannibal" refers to ancient ancestors who were flesh-eating birds) was borrowed by the Tlingit from the north around 1835.
1. Costly to join.
a. Must dance progressively graded for 12 years.
b. Expensive to join.
c. Rituals last a min. of 4 days.
2. Premise that birds come down to eat human flesh.
3. Hamatsa personages.
a. Head Hamatsa is invisible, detectable only by his whistle.
b. Tsonakwa lived in the terrestrial realm, she was a giantess from far away zone.
i. Depicted in dark brown and black.
ii. Ragged and aged appearance.
iii. Pursed lips goes whoo whoo.
iv. Considered clumsy and stupid.
v. Has control over the source of valuables.
vi. One fearful aspect.
aa. Carries a burden basket on her back for children she abducts.
vii. Role of Tsonakwa in winter ceremonies.
aa. Clumsy, falls asleep by the fire, crashes into things, can't dance right.
bb. Removes coppers from her basket for the chief which he keeps or distributes.
c. Komokwa ruler of the undersea world.
i. Male who is master and protector of seals.
aa. Seals indicate wealth.
ii. He rules from his undersea palace.
iii. Associated with the animals like seal, loon, octopus, killer whales.
iv. Associated with physical phenomenon of tides and whirlpool.
v. Masks demonstrate many protuberances in the form of octopus suckers, sea anemones, or rising bubbles.
4. Hamatsa initiation.
i. Novices are abducted by Hamatsa spirit at the edge of town and kept in a ceremonial fraternity house for four days where spirit is exorcized.
ii. Initiates returned and danced to show the capture. They wear cedar-bark neck rings (dyed red with alder).
iii. During the period of return to society there were many performances.
aa. Tricks, slight of hand, demonstrated intensity, officiated by speakers.
bb. Subterranean tunnels (summer built), false bottom chests.
cc. Heavy use of masks in red, black and white, many of birds, many articulated.
iv. Seating in ceremonial house with center of focus on central hearth. allowing many shadow areas.
aa. Easy to create illusions.
bb. Novices seated within reach of illusionists.
v. Prop men sat in the rafters to aid the dancers.
aa. Mythical birds flew on lines.
bb. Sound effects.
E. Other societies existed under the control of the War-Spirit Initiator, the Atlakim, the Once More From Heaven society (they had been given supernatural treasures).